This utility program will help you manage your PBEM games for Combat Mission 2 titles (e.g. Battle for Normandy and Fortress Italy). Once you tell 'Whose Turn Is It?' where your CM2 game is installed you can see which PBEM games you have a turn to play and which PBEM games you are waiting for your opponent to play. You can then tell 'Whose Turn Is It?' where to find new turn files and where to put turn files for your opponents and 'Whose Turn Is It?' will copy your PBEM turns to and from your file synchronization tool.
Logging Defects
Install instructions
Getting Started Guide
Whose Turn Is It? Main Window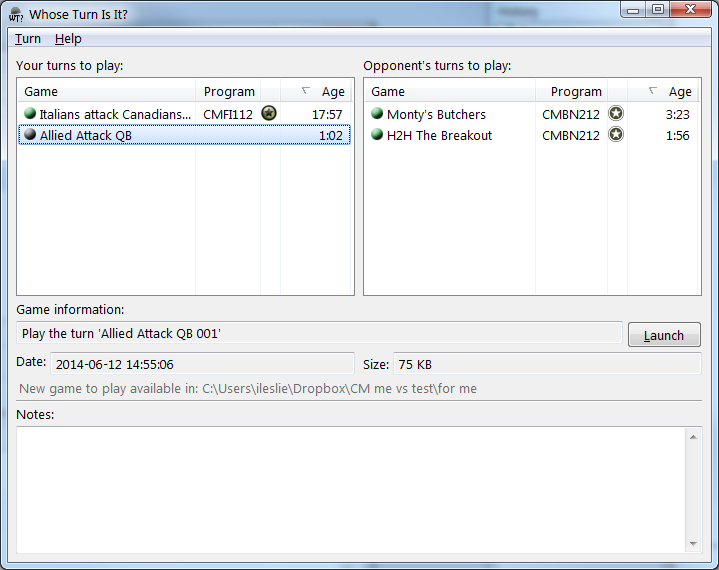 Version 1.0
The first release is now ready for download.
Once you install Whose Turn Is It? you should read the getting started guide.
Please log all defects you find. Visit the Leslie Software Defects section of the site. On your first visit you will need to sign up for an account. After that you can use this short cut link to log defects you find.
Verify that you have Java installed. Open a command window on Windows or a Terminal on a Mac and type java -version.
If the command fails you need to install Java download it from here http://java.com/en/download/index.jsp

For Windows take note if your Java is 32-bit or 64-bit.
For Mac OS X you need to have Java 7 installed.

Select the right package for your system from the download page. For Windows users choosing between 32-bit and 64-bit installers should be selected based on what version of Java you are using. 64-bit Windows computers can be running 32-bit Java and in that case the correct installer to download for Whose Turn Is It? is the 32-bit version.

For Windows copy the install file to your desktop, run it and follow the instructions.

For Mac OS X mount the drive image an copy the app to the applications folder as indicated.


Launch Whose Turn Is It? from the Start Menu group (for Windows) or Launchpad (for Mac)

Fill in the preference page to locate your installed CM games (see the getting started guide).